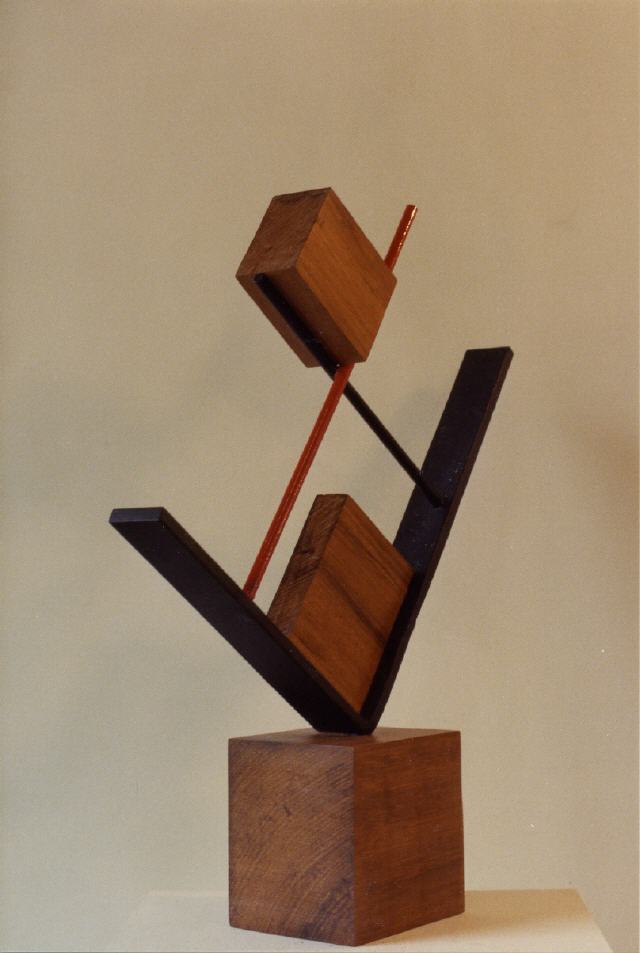 Reviews and publications (chronological)
- 'Kunst te kijk', Leidsch Dagblad, 11.12.1981 [Exhibition Kunstcentrum Lange
Mare]
- Antoon Erftemeijer, 'Uiteenlopend werk op Kunstuitleenexpositie', Leidsch Dagblad, 21.02.1984
- 'Wethouder Kuijers onthulde "jazzmonument", De Leidse Post, 15.05.1985
- 'Eerste monument voor de jazz', Leidse Courant, 12.05.1985
- 'Plaats gezocht voor Leids jazzmonument', Leids Dagblad, 13.05.1985
- Nancy Stoop, 'Begrip "sculptuur" ruim opgevat. Zomerexpositie bij De Narwal in
Wassenaar', Leidsch Dagblad, 09.07.1985
- 'Galerie Biervliet Amsterdam', De Volkskrant, 06.09.1986
- 'Galerie de Pomp, Warmond', Warmonds Nieuwsblad, 25.10.1989
- Andrew Loveridge, 'Sculpture from Holland at the Dandelion Gallery, Galiano BC', Island Tides, 24.10.1991
- Oog in oog. Kunstenaars portretteren elkaar. Leiden: Centrum Beeldende Kunst 1998
- Om de Japanse Tuin. Leiden: Ars Aemula Naturae 2000 [in the context of the celebration of '400 Years Exchanges between Japan and the Netherlands]
- Mahon Wigny, 'Nieuwsgierig makende "kijkraadsels" van Rudi Struik, in: Leids Dagblad, 12.12.2001 [Exhibition 'Doorkijken', Sidac Studio Leiden]
- Coen Polack, 'Landschapskunst in park Cronensteyn', Leids Dagblad, 10.08.2002
- Coen Polack, 'Kunst tussen blubber, kroos en vette klei', Leids Dagblad, 31.08.2002 [Exhibition Park Cronensteyn]
- Lodewijk van Wendel de Joode, '"Kunstgrepen" veranderen Polderpark Cronesteyn in park van de rijzende zon', Leids Nieuwsblad, 13.09.2002
- 'Tentoonstelling Uitgelicht', Voorburgse Courant, Sept. 2002 [Exhibition Galerie Frans Kokshoorn Voorburg]
- Machteld Leij, 'Kunstenaars interpreteren "living" op 400 briefkaarten', Leids Nieuwsblad, 20.07.2004 [International Mail-Art Exhibition]
- 'Eerste Leidse foto- en grafiekmanifestatie', Leids Nieuwsblad, 03.12.2004
- 'Muurgedichten verbeeld door kunstenaars in Leidse etalages', Leids Nieuwsblad, 10.06.2005
- 'Installaties in Haagweg 4', Leids Nieuwsblad, 18.04.2006
- 'Hommage aan Rembrandt op A4-formaat in Sidac', Leids Nieuwsblad, 30.06.2006
- Catalogue The International Festival in the Context of Art/The Differences, 28.09- 01.10.2006, Warsaw: Mazovian Centre of Culture of Art 2007, p. 32-33 + DVD.
- Vincent Bongers, 'Gouden brood bij de bakker', Mare, 05.06.2008
- Theo de With, 'Smeltkroes van culturen', Leids dagblad, 08.05.2008
- Catalogue Gravensteen Installaties Rudi Struik, Piet Franzen, text Vincent Bongers, Leiden September 2008.