* 2002 'Kunstgrepen in het Landschapí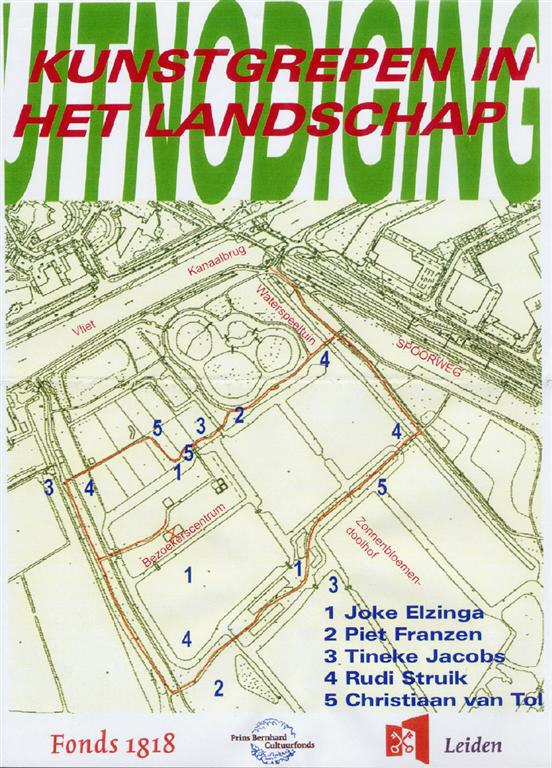 Leiden, Cronesteyn Park: 'Kunstgrepen in het Landschap, September 2002

Rudi Struik, Traíls in the Landscape

My work for Cronestyen reflected upon the idea of traces left by people in the park. Anyone choosing to follow this trail could travel right through the park, along paths, over water, around trees, and through small thickets. The first footprints began by a small bridge over a wide drainage ditch: they walk in the direction of the water, then running alongside the water pass under the bridge and after which they headed inland to a corner with three trees. People left their handprints behind on these. Walking on over a winding path towards a small wood, in an open space the footsteps could be seen to form a spiral. When the footsteps are followed out of the spiral, the end of the journey was reached at the silhouette of a person. You have caught up with the trail.


Leiden, Park Cronesteyn: 'Kunstgrepen in het Landschap', september 2002

Rudi Struik, Spoor door het landschap

Mijn werk voor Cronenstein is een spoor van de mens door het park. Wie het spoor volgt gaat dwars door het park heen, langs paden, over water, rond bomen, door bosjes heen. De eerste voetstappen beginnen bij een bruggetje over een brede sloot: ze lopen naar het water toe, dan via het water onder de brug door en weer het land op naar een hoek met drie bomen. Daarop hebben mensen hun handafdrukken achtergelaten. Verder lopend over een kronkelend pad naar een klein bos toe zie je op een open plek de voetsporen een spiraalvorm maken. Als je de voetstappen uit de spiraal volgt kom je aan het einde van het traject bij het silhouet van een mens. Je hebt het spoor ingehaald.